Current Issue
Vol. 26 No. 2 (2021)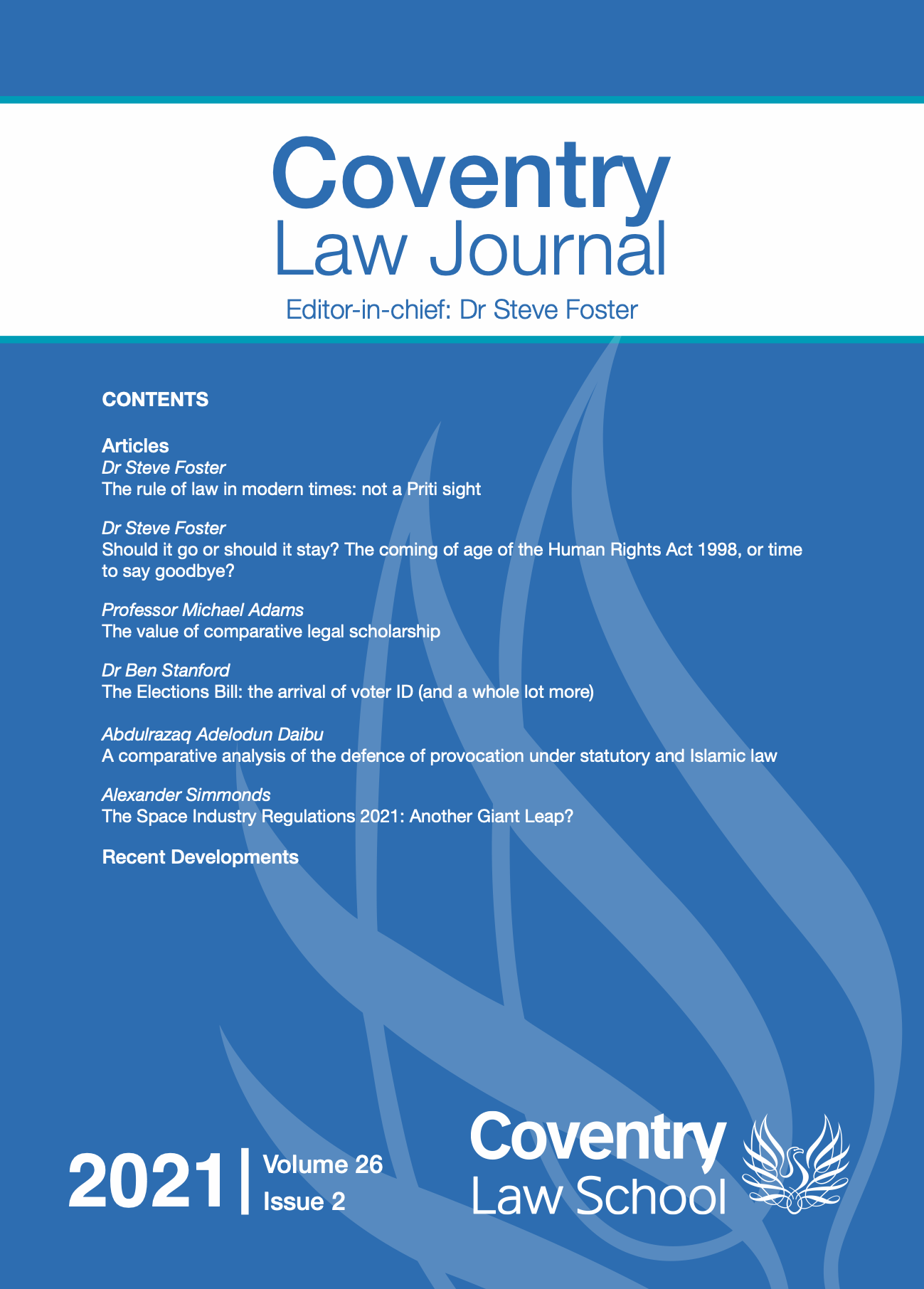 We are very pleased to publish the second issue of the twenty-sixth volume of the Coventry Law Journal, which marks the 25th anniversary of the Journal. This event was marked by a special conference held on September 30-1 October this year, where contributors from past editions presented their pieces, together with appropriate updates.
This gave us an opportunity to reflect on the Journal and what it has achieved over the years. We would like to thank all contributors, but particularly those who presented at the conference. These included regular contributors Dr Stuart MacLennan and Dr Steve Foster (your editors), Professor Barry Mitchell, Dr Mark Ryan and Dr Rona Epstein and Alex Simmonds from Coventry University, Professor Michael Adams from the University of New England, Australia, Chris and Nicola Monaghan from the University of Worcester, Laurence Vick (ex-student and solicitor), Professor Egbewole from Nigeria, and Sukhninder Panesar from the University of Wolverhampton. Special thanks go to Professor Nigel Duncan, and others who chaired panels; and to Dr MacLennan who organised and coordinated the whole event.
This issue contains pieces that reflect on legal developments over the last 25 years, and in particular, Dr Steve Foster examines both the rule of law and the protection of human rights in the UK Constitution in two articles that attack recent proposals for reform in these areas. There are also reflections from Professor Adams on comparative research, Dr Epstein on imprisonment for debt, and Dr Stanford On elections and voter ID. We also, once again, include articles from a colleague from Nigeria, as well as recent developments on various aspects of human rights and constitutional law.
The Coventry Law Journal has gone from strength to strength since it first started in 1996 with two principal aims: to inform our students of recent legal developments, and to provide staff and students with an opportunity to publish their research. Both aims have been achieved admirably over the years, but it has also attracted contributions from outside the university, numerous citations in other works, and publication on Westlaw. Thanks go to everyone who have contributed and here is to the next 25 years!
We hope you enjoy reading this issue and we look forward to your contributions in future issues. If you wish to contribute to the Journal and want any advice or assistance in being published then please contact the editors: the next publication date is July 2022, and contributions need to be forwarded by early June.
The editors: Dr Steve Foster and Dr Stuart MacLennan
Full Issue
View All Issues